Archive for the 'BMW R11 1930 Purchase from Italy' Category
I have decided to place the beautiful R11 Machine for sale.
Potential buyers must have picture ID. To prevent fraud.
Contact:  Martin Fischer/mrtnfischer@yahoo.com/ call 570 815 6294 or text me at that number. Located near Scranton, PA. 18444
It;s history with me included to showings in the AMCA For judging. The first showing was at the Sunshine Club in Daytona and the R11 received 96 out of 100 points.  The 2nd showing of the R11 was at Rhinebeck, NY and it receiver 94 points. Major deductions were for the stainless steel bolts used in some of the coach work. Stainless was not available in 1933. The Machine starts and runs well.
Putting this up for sale is a difficult task as it will be like losing a dependable friend The initial offering price is $42,000, or an offer close to that. I have wanted to sell it as it needs to be shown more. When I went to Mecum auction in Las Vegas in January 2017, similar BMW machines (but not as rare) were going for more that $42K
Today, 12/16/2013 money was transferred overseas to Turin, Italy for a  Motorcycle for sale 1933 BMW R11, classic purchase. A great investment of long term value.
Since BMW first began to manufacture motorcycles after the Great War, in 1924, their intent was to make a product that would sell for years to come. BMW had been making motors for airplanes and other motorcycle manufactures for many years. They would continue making engines and motorcycles and still to this day are noted for their durability.
1930-33  R11  Click on the Picture
The R11 series was first made in 1929 and was produced till 1935 with a total of 75,000 being manufactures. It was the first to have the large 750cc engine horizontally opposed twin. This engine became a primary mover for BMW up through WWII. The R11 series was replaced with the R12 series which had the same size, side valve engine. Apparently the R11 type became a mainstay of the Wehrmacht as well as the R12 construction BASIS.
Not only was it a fast and reliable motorcycle for its time, many applauded the BMW traditional design as a "work of art".
Below, see VIDEO of it running, after 1 kick and 1 year in garage
CLICK ABOVE FOR THE VIDEO    DSCN2067

charged of 250.00. The customs people, were happy to have seen the machine and the arrival fee from Federal express/Airport was $125.00. Shipping from Europe was $5,000 including the on site inspection, airfreight and total.
As of December 6, 2013 the machine is in Turin Italy. The moto will transported by Stefan Knopf of www.knopftours.com, Heidelberg, Germany. Stefan took on the job of inspections, shipping and initiation of customs to USA. He was contracted by me after careful searching for some one to represent me in Italy.  Stefan is the owner of a motorcycle tour group in Heidelberg, Germany.
   When it arrives in  Daytona/Orlando. There the R11 will go the  shop of Joe Gimpel,  Daytona Beach, for inspection and and necessary upgrades and refinement. Because the  R12 was constantly being changed during it's production years, many different variants of  the R11 were made. Only 5000 were produced.
Arrival of the machine has occurred and it was cleared through customs at the Orlando airport. A arrival fee was charged of 250.00. The customs people, were happy to have seen the machine and the arrival fee from Federal express/Airport was $125.00.
The R-11 was uncrated at the Orlando Airport, loaded on a trailer and than taken to Joe Gimple's shop  in Daytona. The bike was uncrated, gas was added, the oil checked and than started after a few cranks on the foot lever.
In March, the machine was entered into the Antique Motorcycle judging at the AMCA, Sunshine chapter, Silver Sand Arena.  In it's class, the Machine received 96 points out of a possible 100. The discounts were for a poor weld on a foot rest and nickle bolts near the fender. The weld was fixed but the bolts remain. They look too good to throw away.. $4.00 in new bolts can get you close to perfect.
Reference for Art Deco school of design from 1920 into the mid 40's. Click below to find more information. http://99designs.com/designer-blog/2012/06/05/art-deco-a-strong-striking-style-for-graphic-design/
Current Market value of this rare R11 is around $35,oo0 to $45,000 The machine is in secure storage in Pennsylvania. and can be shown with an appointment.
I will be happy to discuss this machine contact mrtnfischer@yahoo.com or call 570 8215 6294
Here is the work that was done to the bike in Italy on the rebuild as sent to me from Italy. I have responded with, how are all of the transmission and engine seals?
Good Morning Mr Fischer,
I am happy you like my work.
I can write all possible information about my work.
1) all mechanical parts of the engine has been overhauled: the rollers of the connecting rods of the crankshaft were replaced, the bearings are new, the valves and pistons have been redone, timing gears have been restated
2) transmission gears have been restated
3) the bearings of the universal joint have been replaced
4) the magneto has been reviewed about internal coil and capacitor
You ask me where you can buy replacement parts of this motorcycle: I know there is a man in Germany, his name is DREHER who sell replacement parts but he has only some of this.
his web site is:   shop.dreher-oldtimertiele.de
If you need particular parts I can help you: some of my friends have something.
If you need other information about the motorcycles write me, please!
if you or your friends want to buy other motorcycles I send you some photo of motorcycles that I want sell.
Best regard
Dario Maina
The next version of the BMW was the R12, it was produced from 1935 to 1939 when all production went to the German Military. R12 specifications
Engine and transmission specifications

Engine type:
2 cylinders, 4-stroke, Boxer
Displacement:
745

cc

(45.52

cubic inches

)
Bore × stroke:
3.07

inch

× 3.07 inch (square)
Cooling system:
Air cooled
Power:
17.95

HP

(13.2 kW)

@

3400

rpm

Throttle:
Cable operated
Valves
Valve train:
side vale flat head
Valves per cylinder:
2
Fuel and ignition
 gas
Sparks per cylinder:
1
Fuel supply system:
Carburetor
Funnel diameter:
0.94

inch

Compression:
5.5:1
Engine mounting:
Longitudinal
Lubrication system:
Wet sump
Gear box:
Manual 3-speed
Clutch:
Dry, single plate, cable operated
Final drive:
Shaft
Spark plug pipe type:
Bosch, W 175 T1
Starter:
Kick-starter

Dimensions

Physical measures
Length:

82.7

inch

Width:

35

inch

Height:

37

inch

Wheel base:

54.3

inch

Weight
Spark plug pipe type:Bosch, W 175 T1

Chassis and suspension

Frame type:
steel, Double cradle frame
Front
Suspension:
Leading link
Brake:
Single Drum, Ø7.87

inch

Tire:
3.5 × 26
Rear
Tire:
3.5 × 26

Other

ABS available:
No
Power-to-weight ratio:
0.08

KW/lbs

(12.27

lbs/HP

)
Top speed:
62.14

mph

Fuel capacity:
3.7

gals

Number of riders:
1

person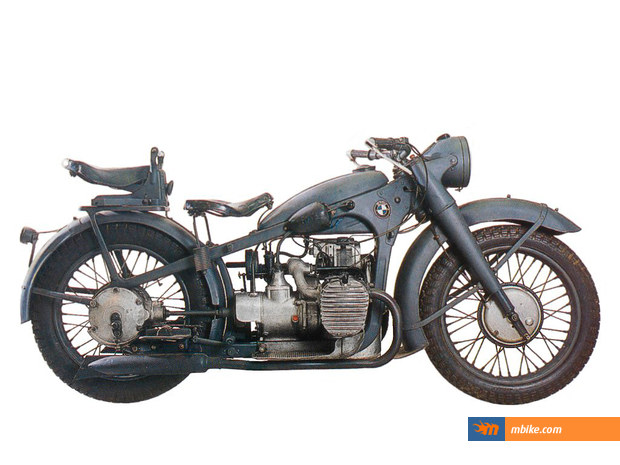 Above photo is an R12 1937 Army model
Notice that there is a air and oil suspension on the front forks as well as a lack of side shifter.
 Above Picture of R17 1935   note that it is a overhead valve and twin carburetors. Very attractive machine and some claim desirable, personally I like my R11, more classic lines
Save
Save