I have decided to place the beautiful R11 Machine for sale.
Potential buyers must have picture ID. To prevent fraud.
Contact:  Martin Fischer/mrtnfischer@yahoo.com/ call 570 815 6294 or text me at that number. Located near Scranton, PA.
It;s history with me included to showings in the AMCA For judging. The first showing was at the Sunshine Club in Daytona and the R11 received 96 out of 100 points.  The 2nd showing of the R11 was at Rhinebeck, NY and it receiver 94 points. Major deductions were for the stainless steel bolts used in some of the coach work. Stainless was not available in 1933. The Machine starts and runs well.
Putting this up for sale is a difficult task as it will be like losing a dependable friend The initial offering price is $42,000, or an offer close to that. I have wanted to sell it as it needs to be shown more. When I went to Mecum auction in Las Vegas in January 2017, similar BMW machines (but not as rare) were going for more that $42K
Today, 12/16/2013 money was transferred overseas to Turin, Italy for a  Motorcycle for sale 1933 BMW R11, classic purchase. A great investment of long term value.
Since BMW first began to manufacture motorcycles after the Great War, in 1924, their intent was to make a product that would sell for years to come. BMW had been making motors for airplanes and other motorcycle manufactures for many years. They would continue making engines and motorcycles and still to this day are noted for their durability.
1930-33  R11  Click on the Picture
The R11 series was first made in 1929 and was produced till 1935 with a total of 75,000 being manufactures. It was the first to have the large 750cc engine horizontally opposed twin. This engine became a primary mover for BMW up through WWII. The R11 series was replaced with the R12 series which had the same size, side valve engine. Apparently the R11 type became a mainstay of the Wehrmacht as well as the R12 construction BASIS.
Not only was it a fast and reliable motorcycle for its time, many applauded the BMW traditional design as a "work of art".
Below, see VIDEO of it running, after 1 kick and 1 year in garage
CLICK ABOVE FOR THE VIDEO    DSCN2067

charged of 250.00. The customs people, were happy to have seen the machine and the arrival fee from Federal express/Airport was $125.00. Shipping from Europe was $5,000 including the on site inspection, airfreight and total.
As of December 6, 2013 the machine is in Turin Italy. The moto will transported by Stefan Knopf of www.knopftours.com, Heidelberg, Germany. Stefan took on the job of inspections, shipping and initiation of customs to USA. He was contracted by me after careful searching for some one to represent me in Italy.  Stefan is the owner of a motorcycle tour group in Heidelberg, Germany.
   When it arrives in  Daytona/Orlando. There the R11 will go the  shop of Joe Gimpel,  Daytona Beach, for inspection and and necessary upgrades and refinement. Because the  R12 was constantly being changed during it's production years, many different variants of  the R11 were made. Only 5000 were produced.
Arrival of the machine has occurred and it was cleared through customs at the Orlando airport. A arrival fee was charged of 250.00. The customs people, were happy to have seen the machine and the arrival fee from Federal express/Airport was $125.00.
The R-11 was uncrated at the Orlando Airport, loaded on a trailer and than taken to Joe Gimple's shop  in Daytona. The bike was uncrated, gas was added, the oil checked and than started after a few cranks on the foot lever.
In March, the machine was entered into the Antique Motorcycle judging at the AMCA, Sunshine chapter, Silver Sand Arena.  In it's class, the Machine received 96 points out of a possible 100. The discounts were for a poor weld on a foot rest and nickle bolts near the fender. The weld was fixed but the bolts remain. They look too good to throw away.. $4.00 in new bolts can get you close to perfect.
Reference for Art Deco school of design from 1920 into the mid 40's. Click below to find more information. http://99designs.com/designer-blog/2012/06/05/art-deco-a-strong-striking-style-for-graphic-design/
Current Market value of this rare R11 is around $35,oo0 to $45,000 The machine is in secure storage in Pennsylvania. and can be shown with an appointment.
I will be happy to discuss this machine contact mrtnfischer@yahoo.com or call 570 8215 6294
Here is the work that was done to the bike in Italy on the rebuild as sent to me from Italy. I have responded with, how are all of the transmission and engine seals?
Good Morning Mr Fischer,
I am happy you like my work.
I can write all possible information about my work.
1) all mechanical parts of the engine has been overhauled: the rollers of the connecting rods of the crankshaft were replaced, the bearings are new, the valves and pistons have been redone, timing gears have been restated
2) transmission gears have been restated
3) the bearings of the universal joint have been replaced
4) the magneto has been reviewed about internal coil and capacitor
You ask me where you can buy replacement parts of this motorcycle: I know there is a man in Germany, his name is DREHER who sell replacement parts but he has only some of this.
his web site is:   shop.dreher-oldtimertiele.de
If you need particular parts I can help you: some of my friends have something.
If you need other information about the motorcycles write me, please!
if you or your friends want to buy other motorcycles I send you some photo of motorcycles that I want sell.
Best regard
Dario Maina
The next version of the BMW was the R12, it was produced from 1935 to 1939 when all production went to the German Military. R12 specifications
Engine and transmission specifications

Engine type:
2 cylinders, 4-stroke, Boxer
Displacement:
745

cc

(45.52

cubic inches

)
Bore × stroke:
3.07

inch

× 3.07 inch (square)
Cooling system:
Air cooled
Power:
17.95

HP

(13.2 kW)

@

3400

rpm

Throttle:
Cable operated
Valves
Valve train:
side vale flat head
Valves per cylinder:
2
Fuel and ignition
 gas
Sparks per cylinder:
1
Fuel supply system:
Carburetor
Funnel diameter:
0.94

inch

Compression:
5.5:1
Engine mounting:
Longitudinal
Lubrication system:
Wet sump
Gear box:
Manual 3-speed
Clutch:
Dry, single plate, cable operated
Final drive:
Shaft
Spark plug pipe type:
Bosch, W 175 T1
Starter:
Kick-starter

Dimensions

Physical measures
Length:

82.7

inch

Width:

35

inch

Height:

37

inch

Wheel base:

54.3

inch

Weight
Spark plug pipe type:Bosch, W 175 T1

Chassis and suspension

Frame type:
steel, Double cradle frame
Front
Suspension:
Leading link
Brake:
Single Drum, Ø7.87

inch

Tire:
3.5 × 26
Rear
Tire:
3.5 × 26

Other

ABS available:
No
Power-to-weight ratio:
0.08

KW/lbs

(12.27

lbs/HP

)
Top speed:
62.14

mph

Fuel capacity:
3.7

gals

Number of riders:
1

person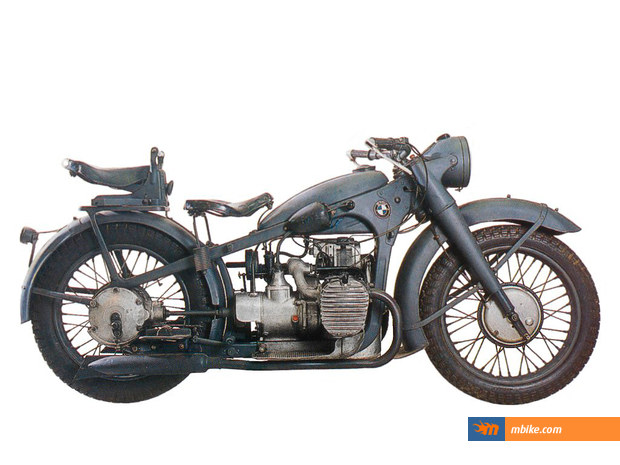 Above photo is an R12 1937 Army model
Notice that there is a air and oil suspension on the front forks as well as a lack of side shifter.
 Above Picture of R17 1935   note that it is a overhead valve and twin carburetors. Very attractive machine and some claim desirable, personally I like my R11, more classic lines
Save
Save
What!  am I tired of collecting British sport cars,? Where am I going? do I really need more stuff? Is the Man Cave full up? Am I getting old like the rolling stuff and just have forgotten how to relax? Is there this compulsion to save the things from the past, rebuild for future profit? Or am I doing it to keep busy? Well, atl east with bikes, they are interesting and sometimes difficult to ride  and it is fun to see and feel first hand just how far the evolution of the motorcycle has gone forward.(They really don't take up much space as well). But, Just when I thought I was cured of this affliction and away from the mechanical steeds,I was shaken, stirred and consumed. I was weak and vulnerable, I was fast approaching over 70 years,  I had some excess cash,  my feet hurt and I need S.O. G. O T. Pot.   THAN, I was struck once more, like a mighty sword from above, THOR had me in his sights, HIS HAMMER was an Earle's fork. Being struck does mean only visually and  over the head. But enough of the whys, the bearer of the Earles fork was ahead, an R60/2 1967. Below the story begins It was a sunny and balmy day, I and my friend,  Joe B, a fellow native northeast PA person,. and I traveled to Eustis,  Florida during the March 2014 Bike Week in Daytona Beach. It was a lucky and unlucky chance visit. The God's of thrift, and beauty, combined with the sins of gluttony and greed,  forced me to make a commitment to a R60/2. that had rolled off a trailer and being the last day of the flea market, the owner,  Doug Phillips, who had this bike as a first bike and was used as a daily driver in Michigan. For over 14 years.  Doug, drove this bike to jobs and fun places. So when I looked at the 88,000 miles, I was not concerned as bike are made to be ridden, especially the R60. Doug informed me that he had replaced pistons with .020 over and new rings. Other work had been done on the electrical, engine valves as well as gasket work on the push rod tubes. He said that he has maintained it quite well over the 14 years he had continuously driven the R60 and it was in good shape. It was a little dirty with some minor surface rust but that was to be expected. Everything was original. After a brief drive with the r 60 over the Eustis Fairgrounds, with  little dips, some gravel and pavement, it was affection at first sitting. The unique Earle's front fork gave a stable and solid ride with no indications of problems in the handling. It started easily with a brief down stroke on the starter lever after a tickling of the carburetor bowls. Later I was to find out that it can be temperamental and that starting is a "Leaned Process". Next thing I new, a price was established, a down payment was made and a pickup arranged. But at the AMCA (Antique Motorcycle Club of America show at Silver Sands area near the Cabbage Patch on Tomoka Road. South Daytona area). The recently acquired R-11 was shown and received a wonderful award of 96.5 points out of a possible 100. What a delight.
 ***Author's Note: for information in detail go the the official Cannonball web site fro all the entries, winners and losers and their respective positions. Many of the participants have their own web sites that can give more information than myself.
Who would have guessed, after seeing a poster someplace in Wyoming in the smallest town in America (population 2), that was also noted for the coldest beer in town.  That I, Martin, Would be involved in the Cannonball. Yes, the poster was real and I kept a ear peeled for more news. Later that summer, in Daytona Beach, I attended a monthly meeting of the Daytona Beach BMW club. There, attending was a Joe Gimple. I had arrived a few minutes late only to hear Joe announce hat he would be entering is late 1920's BMW motorcycle. It was there in the garage where the meeting was held and I was desirous to see the start and possible the finish of the Cannonball run this year.
Above, see Joe Gimple getting ready to leave The Hilton in Milwaukee for Iowa. One of Joe's back up person and van driver is on the right.

I than thought that I could take some quality pictures and supply them to the magazine On The Level, produced for the BMW Riders Association, a BMW motorcycle magazine.
The first day I went to Newburg, NY to find the start of the Cannonball. I found them at the Hilton Garden in Newburg. Many of the teams of riders, mechanics helpers and drivers were arriving and putting the machines in the best possible mechanical condition to begin the race.
During the first day, I was busy shooting pictures with my Nikon Digital using the fine setting for use in the  later publication for the BMWRA.
Some of the first impressions of the large crowd gathered in the parking lots of the Hilton was amazing. Just to see the vast variety of machine, BSA's, BMW's Excelsiors, Hendersons, Harley Davidson's, Indians, Sunbeam, just to name some. The parking lots were ablaze with lights at night as large trailers and work trucks belonging to the contestants fired up their generators to work on the bike.
The next day the start of the event was at the Motorcycle Museum, a few miles from the Hotel. The exodus from the Hilton was an event by it'self. At 6 Am the activity began and machine were starting to leave for the Museum. Many of the machine emitted their own flavor and scent of smoke, so the early cool morning, mixed the dew with the bluish smoke and a smell of castor oil to one of synthetic lube, not a bad thing.
Joe Gimple and Mike from Daytona Beach, Florida
Share this tale
Share All options that are sharing: cash Talks: one partner had student education loans, one other paid it all off
This tale is component of the band of tales called
Welcome to Money Talks, a unique series by which we interview individuals about their relationships with money, their relationships with one another, and exactly how those relationships inform the other person.
Meet Caroline and Nick, a couple that is married their 30s whom reside in a metropolitan town regarding the East Coast. Nick works in finance, and Caroline is self-employed. Their relationships that are differing cash (Nick's household had it; Caroline spent my youth middle-class) arrived up at the beginning of their relationship. Whenever Caroline graduated from grad college, she had $60,000 of pupil financial obligation, and she proudly chipped away at it for a long time. Read the rest of this entry »
Those of us into the test prep globe are monitoring proposed modifications towards the ACT – set release a this autumn of 2015 – for over a now year. ACT happens to be significantly close-handed about these modifications, apart from the occasional marketing-driven burst of information across the migration to online ACT evaluating or perhaps the reinvention regarding the ACT Writing component (otherwise referred to as Essay).
It's important to contextualize these changes amidst the SAT overhaul (announced March 2014). In reality, just by the content on ACT's site, the autumn 2015 ACT mini-redesign seems like a primary reaction to the newest SAT. See yourself:
Now, if the ACT states "clients,because they pay ACT directly for the test)" it means colleges and universities – not students and their families, despite the fact that this latter group are the ACT's direct customers (. ACT's concern that is primary to keep appropriate in the wonderful world of college-readiness evaluation when you look at the eyes of major organizations with entire divisions (called "admissions") arranged across the task of assessing university readiness in possible students.
Therefore, it ought to be no real surprise that students were the final to find out the noticeable modifications to your ACT. Nearly all of our ACT pupils learned all about the future changes either from us or from a contact to Sept. 12th ACT test-takers delivered by ACT just fourteen days ago.
So what should ACT pupils know about these modifications?
Aside from the rollout that is gradual of evaluation, you can find three essential alterations to ALL future ACT test times that students should know:
1. IMPROVED ACT WRITING PROMPT
The ACT Writing essay, its status that is optional already it to higher-scoring pupils just, will now be 40 mins (versus thirty minutes, like in days gone by) and certainly will need the pupil to articulate his or her position on a issue vis-a-vis three other views. What's interesting about these views isn't just which they represent authentic jobs people within the general public sphere could actually hold; additionally they occupy overlapping roles when you look at the sample "debate space," usually chatting past one another in noncompeting terms. Read the rest of this entry »